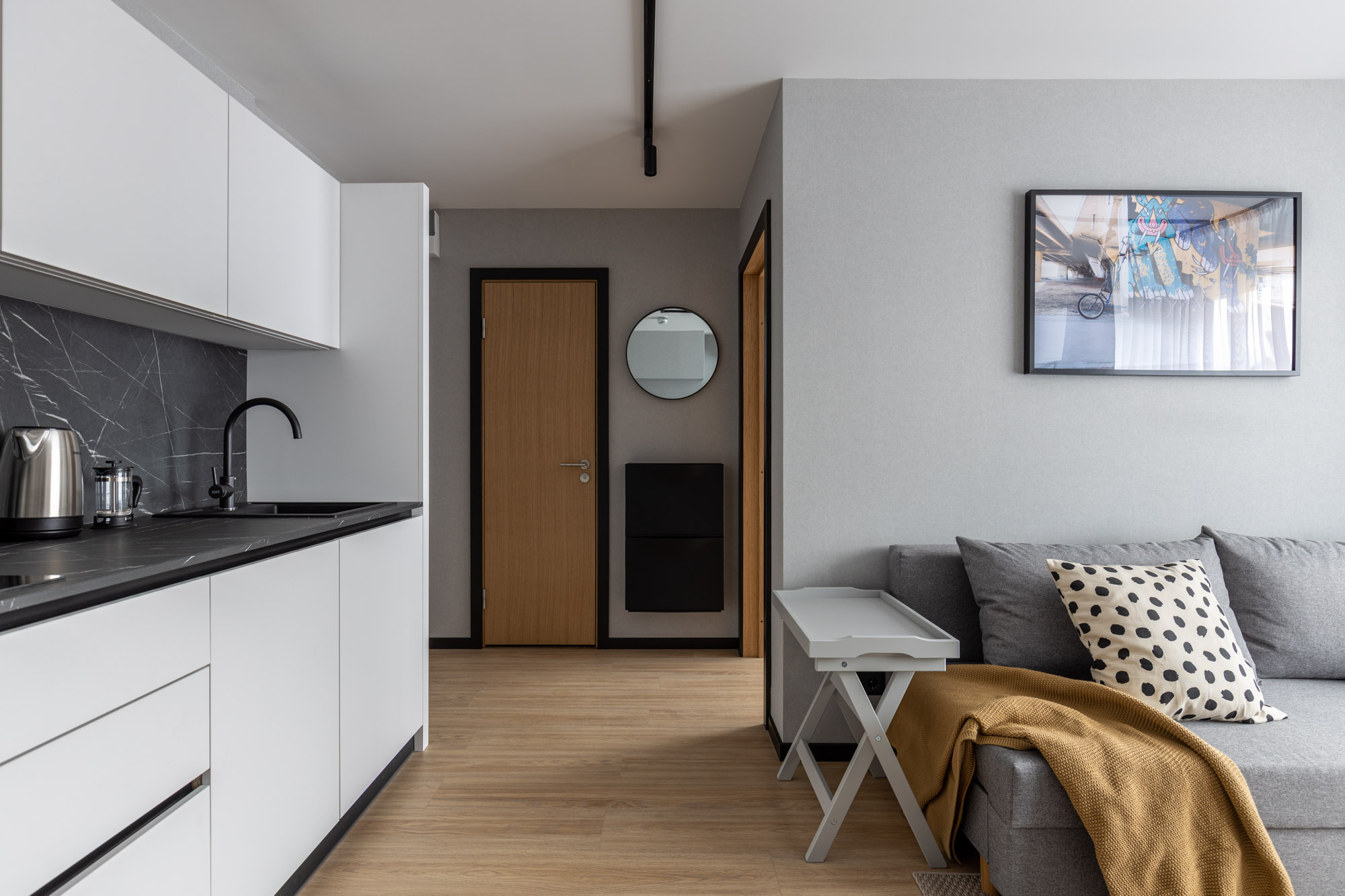 TERMS & CONDITIONS

1. The range of terms and validity
1.1. The terms are valid between the person (hereinafter Customer) and the webpage www.balciaresidence.com (hereinafter Balciaresidence online booking) owner Balcia Insurance SE for the legal relations while purchasing products and services via Balciaresidence online booking.
1.2. Purchasing services and products via Balciaresidence online booking there are legal acts of the Latvian Republic regulating the legal rights in addition to current terms and conditions.
1.3. The transactions made at the online booking must be made by a capable person at least 18 years of age. If the person makes the transaction not according to the regulations, the person whose bank account or debit/ credit card is used will be responsible for the transaction.

2. Price
2.1. All prices are in Euros and include the taxes regulated by the Latvian Republic.
2.2. Carefully observe the selected price information. Prepayment is obligatory for some prices. If you cancel a price of a prepayment condition, then the service/ product provider has the right not to return the prepaid amount.

3. Payments for accommodation with prepayment
3.1. The product selected by the customer from Balciaresidence online booking must be paid in the full amount. By making the payment, the customer will assure that he/she has fully read and accepted the terms and conditions provided by the service provider in the online booking engine.
The amount shown in online booking can be made through internet banks as well as Visa and MasterCard debit and credit payments.
4. Booking and confirmation
4.1. When making a booking, you are required to state all mandatory fields (f.e. arrival and departure date, name, email address etc). Your booking is only confirmed after you receive the booking confirmation to the email address you have given while making the booking.

5. Cancelling and changing the order and refund
5.1. Different cancellation policies and money refund terms vary depending on the accommodation and/or accommodation package rates, therefore, please always read the pricing information carefully. Terms about the cancellation, modification and money refund are written in the description of the accommodation and/or accommodation package price in the online booking.
5.2. Accommodation and/or accommodation package is valid from the start and end date of the accommodation and/or accommodation package. Accommodation and/or accommodation package is not valid after the expiry date, and it will not be refunded or changed.
5.3. To modify your booking, please make a new booking and cancel the previous one. Please note that the rate, as well as the product/ service type available for the new booking, may have changed.
5.4. In case of non-arrival or later cancellation, the service/ product provider reserves the right to charge 100% of the first night as a No-Show fee. If the service/ product provider has any costs made especially for your reservation, you must compensate them.
5.5. Your confirmation email will specify the exact cancellation due date which is the deadline you must cancel to avoid any cancellation fee. Please check the policies carefully.

6. Privacy policy
6.1. All personal information provided while making a purchase in the online booking is confidential and is treated by the requirements of the law of personal information.
6.2. Balcia Insurance SE has the right to collect personal information provided by the Client. Balcia Insurance SE does not give out personal information to third parties without the consent of the customer, except in cases provided by law.
6.3. Personal data is processed by the information as prompted by the Client placing the booking (first and last name, address, telephone number, e-mail address etc).
6.4. The security of payment with a bank link and a bank card is protected by the SSL security protocol, which ensures that the information exchanged cannot be intercepted or altered by unauthorized persons and will never be shared with merchants or 3rd parties.

7. General information
7.1. Arrival and departure. Your apartment is at your disposal from 15.00 (3PM) on the date of arrival until 11AM on the date of departure, if Client warns prior on different time, Balciaresidence can accept such request.
7.2. Smoking policy. All rooms are non-smoking. If a guest breaches the smoking ban, the Balciaresidence are entitled to charge the guest for ensuing costs.
7.3. Pets are not allowed.
7.4. All rooms are insured, but Client is obligated to secure deductible (amount) in amount of 150 euro.

8. Miscellaneous
8.1. All complaints regarding the purchase from the online booking between the customer and Balciaresidence will be resolved by negotiations. In case of no agreement, the customer has the right to turn to Consumer Protection. In case of complaints and questions not brought out in current terms and conditions, the legal acts of the Republic of Latvia will be used.

Company legal name: Balcia Insurance SE
Reg.nr: 40003159840
VAT nr: LV40003159840
Address: Krisjana Valdemara street 63, Riga, postal code: LV-1010, Latvia
Phone: +371 22422322
E-mail: info@balciaresidence.com
Website: www.balciaresidence.com