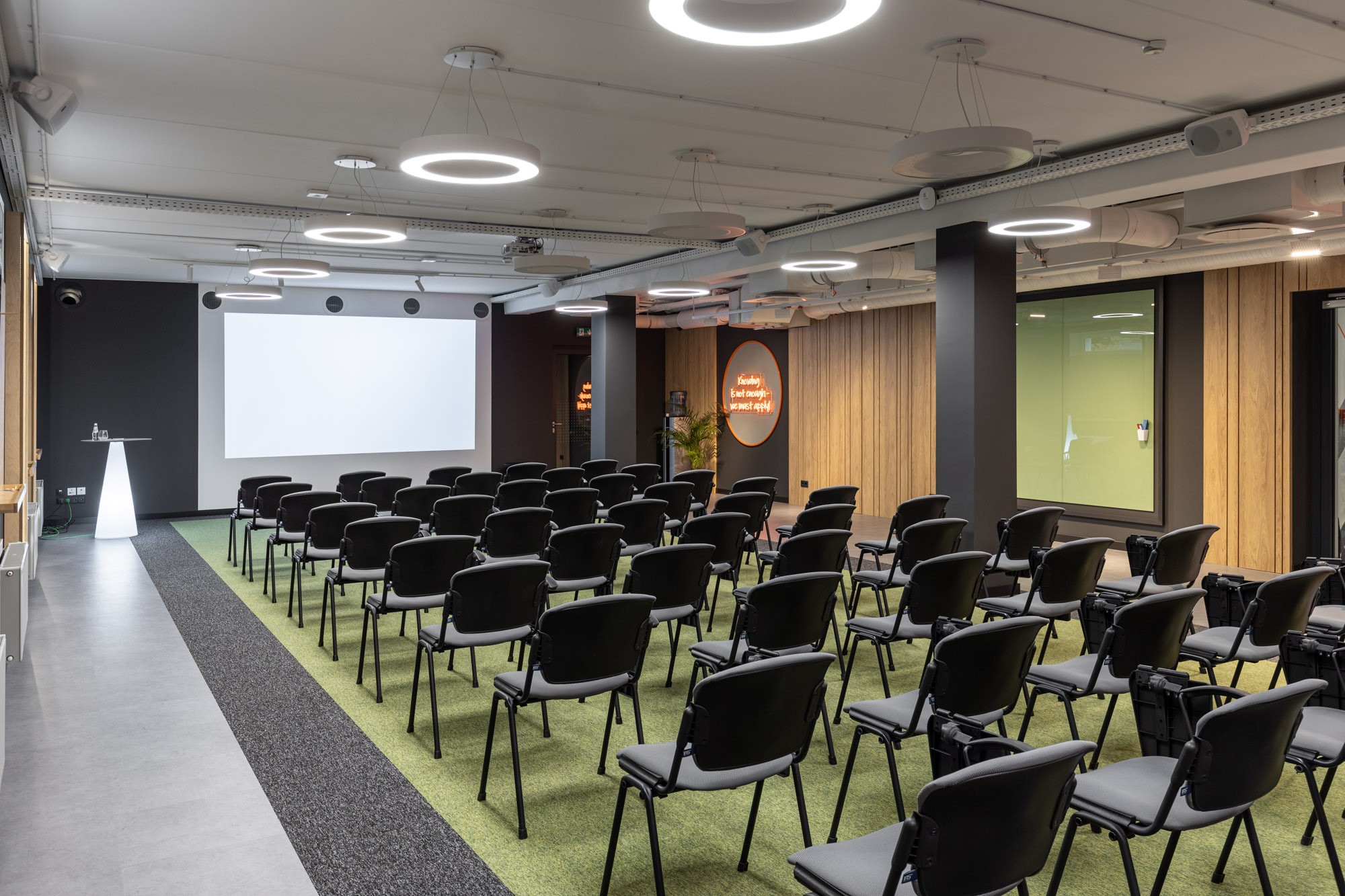 CONFERENCE
Welcome to BALCIA CONFERENCE CENTER, a place for sparking inspiration in people's minds. It's where ideas fly, and when the magic happens, great things tend to follow.
This is far from your typical event, with many options for whatever meeting type you need. We've covered you with 3 modern meeting rooms, top-notch furniture, and modern media tech.
Let loose and relax while networking or just hanging out at our cozy and modern lounge, full to the brim with delicious coffee and snacks, or, if you fancy, a special dining experience curated by top-tier chefs in Riga for a truly magical night.
Bring your event to an even grander high when you welcome your guests onto our exclusive roof terrace, giving them an unforgettable view over Riga, over which the thump of uninhibited joy and partying will make for one fantastic night.
Main conference room
Here your conference, presentation, or any other creative idea can turn into a success, as wild, wonderful ideas flow out without inhibition. The hall is great for conferences and presentations, forums, and letting creativity run wild.
Room size: 140 m2
Seating: rows for 80 persons
Technical information
65-inch TV screen/projector/wireless microphone
Fast Wi-Fi connection
Artificial and natural lighting
High-quality air conditioning
Separate wardrobe and seating area
Accessible parking
Prices
up to 80 persons 120 EUR/hour or 600 EUR/day
10 persons 35 EUR/hour or 175 EUR/day
The rental price includes presentation equipment, furniture, notebooks, whiteboard, stationery, coffee, tea, water and parking for all participants.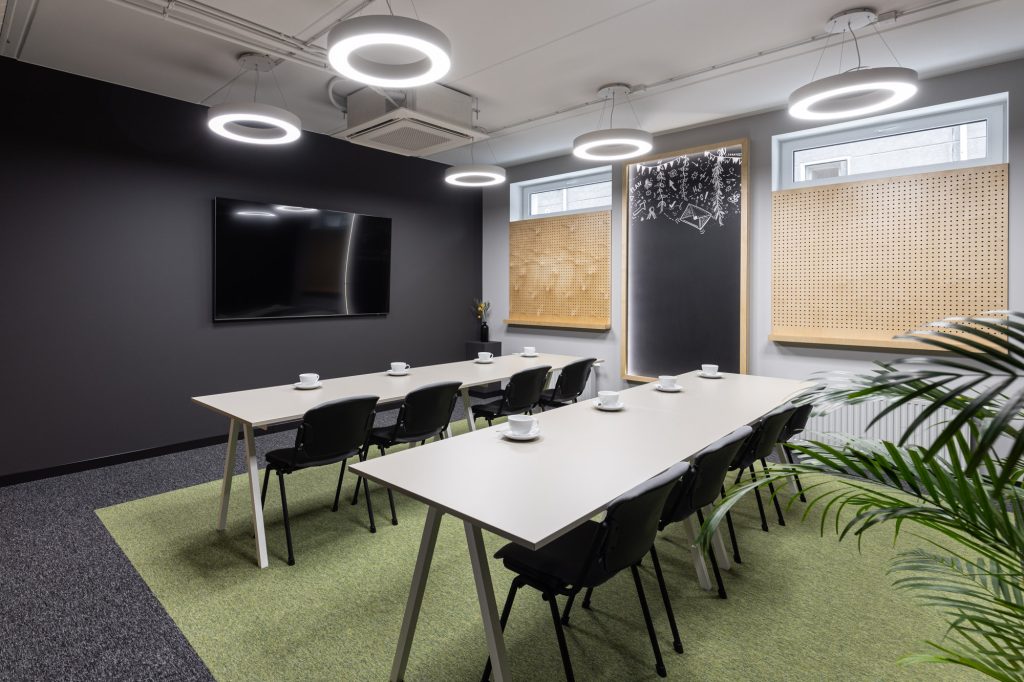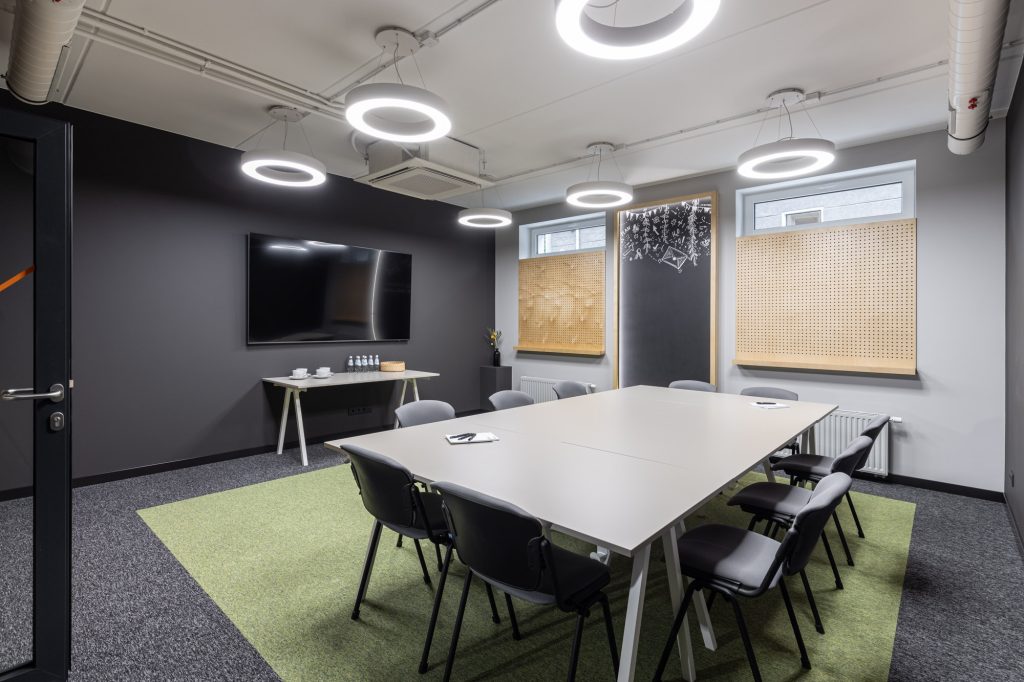 Small creative rooms
Two adaptable rooms for an array of things from brainstorming to intimate wine tastings, or giving light to and entertaining non-conventional ideas.
Room size: 35 m2
Seating: up to 20 persons
Technical information
Fast Wi-Fi connection
85-inch TV screen
High-quality air conditioning
Accessible parking
Prices
4 persons – 15 Eur/h or 75 Eur/day
6 persons – 20 Eur/h or 100 Eur/day
12 persons – 35 Eur/h or 175 Eur/day
The hall rental price includes technical equipment, note pads, stationery, whiteboard, coffee, tea, water and parking for all participants.
Comfortable roof terrace
Push your event to unforeseen heights as you leave guests in awe on our exclusive roof terrace.
Total area: 201 m2
MAX capacity: 50 persons
Prices:
100 euro/h or 900 euro/day
Event management to give you peace of mind
Conference centre technical support EUR 190/day, additional charges of EUR 50 may apply for non-standard services.
We cooperate with the leading catering companies in Latvia and provide coffee breaks, lunches, and other meals according to the client's wishes.
Contact information for the availability and more information
phone: +371 22422322
info@balciaresidence.com