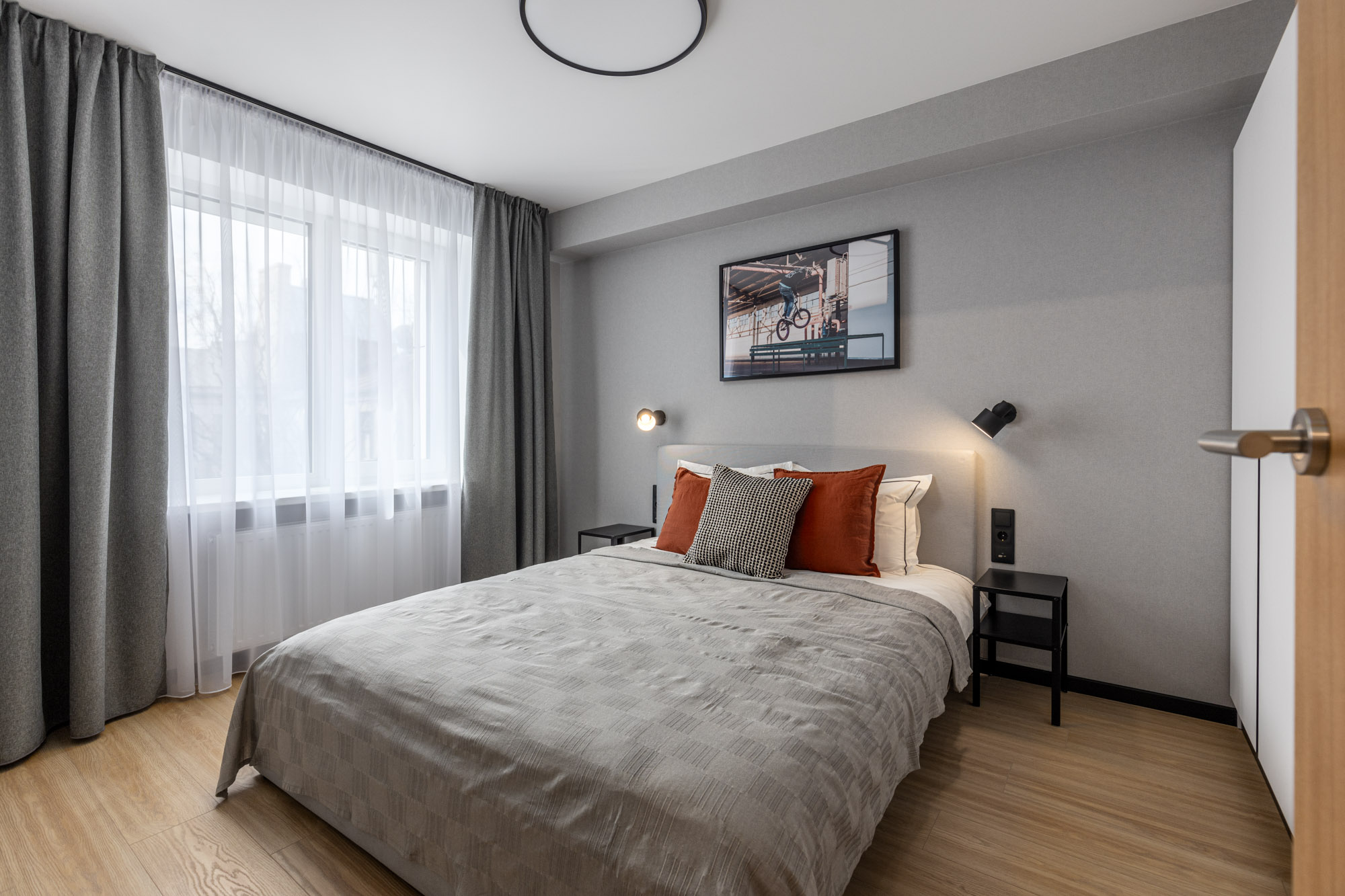 APARTMENT EQUIPMENT
Experience the ultimate in stylish living with Balcia Residence's exceptional apartments. We have carefully curated every detail to ensure that you have everything you need to feel right at home. Located in the heart of Riga's city center, our apartments are just a short walk from popular cafes, restaurants, and bars as well as next to Arena Riga, an indoor arena primarily used for sports events and concerts.
You can choose from our range of guest apartments that cater to your specific needs, whether it's for short-term (minimum 7 days) or long-term stays. Our larger apartments (2 rooms & 3 rooms) are ideal for couples and small groups, featuring contemporary and fully equipped kitchens.
Unlike traditional hotels, our guest apartments offer a home-away-from-home experience, with easy check-in procedures.
For families traveling with infants, we also offer the option to use a baby bed upon prior agreement. We have carefully curated every detail to ensure that you have everything you need to feel right at home. Our competitive pricing and flexible lease terms make our apartments accessible and affordable for a wide range of individuals and families. Discover the perfect blend of comfort and convenience with Balcia Residence exceptional apartments.
Balcia Residence will be perfect for international concert-goers as we are located just a few minutes away from the largest concert arena in Latvia (Arena Riga). Additionally, we are the ideal destination for sports enthusiasts or professional athletes, considering that all of the major sports infrastructure facilities in Riga (Arena Riga, Rimi Olympic Center, and Olympic Skonto Hall) are located right next to us. Indulge in a worry-free stay with Balcia Residence's exceptional amenities, providing you with the convenience, security, and comfort you deserve.
Apartments are equipped with:
Wi-Fi
Bed linen for all guests
Wardrobe closet (for 2 & 3 room apartments)
Dining table and/or desk
Sofa bed (only for 2 & 3 room apartments)
Iron
Digital TV
Flat-screen Samsung TV
Cleaning products
The kitchen for 2 & 3 room apartments is equipped with:
Dishes and cutlery
Dolce Gusto coffee machine and kettle
Kitchen utensils
Whirlpool fridge
Electrolux Stove
Whirlpool dishwasher
The kitchen for 1 room apartment is equipped with:
Dishes and cutlery
Kitchen utensils
Dolce Gusto coffee machine, and kettle
Whirlpool fridge
Bathroom is equipped with:
Toiletries
Shower
Hairdryer
Important information:
Smoking is not allowed in our apartments
Parking is available for additional cost 20 EUR per day or 120 EUR per months and is subject of availability.
Additional benefits for our visitors:
Cleaning service provided once a month (for rentals exceeding 1 month free of charge), ensuring a fresh and tidy living space throughout your stay.
24-hour physical and video security of the building, ensuring your safety and peace of mind around the clock.
Reception desk available 24/7, providing assistance and support whenever you need it.
Property and civil liability insurance, giving you added protection and peace of mind during your stay.
Secure storage options for bicycles, scooters, mopeds, and motorcycles in the courtyard of the protected area, allowing you to explore the city with ease.
First-level outdoor terrace and second-level terrace (subject to availability), providing the perfect spot to relax and unwind in the fresh air.
Common spaces including a welcoming lobby and lounge area, a dining area (subject to availability), and a gallery area, offering spaces for relaxation and socializing.
There is a range of internationally recognized restaurants and cafes available in the surrounding area of Balcia Residence, but can also provide catering for groups starting from 10 reserved apartments.